For the first time, today I went to church by myself, sat by myself and didn't completely blubber through all the music.  OK, so there were a few tears during that last song, but no blubbering and it didn't turn into the big ugly cry.  (There's something about singing "All I have is in You" that brings me to tears.)
For the first time this week I went out to eat by myself – just me.  Table for one.  It was to one of Michael's favorite places.  The manager came over and talked like he used to talk with Michael and me.  It's not as much fun to dine alone.  (But he did pick up my check – thanks Paul!)
For the first time next week I will be travelling without Michael.  It's a girlfriends' trip – something I would have never done without Michael.  And for the first time I am planning an overseas trip without Michael – that will really take me out of my comfort zone!
For the first time I am making investment decisions and business decisions by myself.  It's the kind of thing that we would always discuss together, no matter whose idea it was to begin with.  We were partners that way.
For the first time I attended a board meeting in Michael's place and for the first time I went to a seminary event without him.  I spent the entire time that evening thinking that he should be there celebrating his good friend and when they showed a picture of Michael I lost it.  The tears started flowing and couldn't be stopped and I had to make a hasty exit.  Sorry friends.
For the first time I went to the farm without Michael.  He wasn't there physically, but he's all over that place!  And soon I'll go for the first time to the beach house.  Another hurdle to face.
For the first time I made bread.  Not banana bread or zucchini bread or cranberry-orange bread.  Not the kind out of the box or in a bread machine.  The old fashioned, from scratch, add the yeast, knead, wait, punch and knead some more kind.  And it was pretty good, if I may say so myself (especially with some homemade peach preserves – mmm).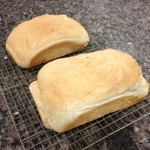 For the first time I had to sign a sworn affidavit that I am not married.  It's like adding insult to injury and made me reach for the tissues.  Yeah, I didn't see that one coming at all.
Some days I actually feel a little stronger and think there are things I will try that I've never done before.  I see a lot more firsts in my future.  Life looks very different.